Queensland based finger-style guitarist Peter Miller is known in Australia and Europe for his delicate touch and for his melodic sensibility. He spent his early years listening to Hendrix,Knopfler, Bruce Cockburn, Phil Keaggy, Michael Hedges and just about anything with a tasty guitar lick. He eventually found himself slotting right into the acoustic guitar world.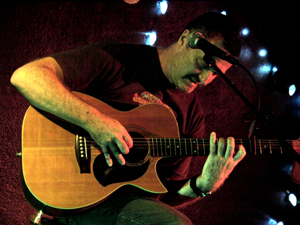 Peter has toured Ireland and Europe on numerous occasions where he has shared the stage with Legendary song writer John Spillane, piper Eoin Duignan, Slide player Clive Barnes, Stephen Housden (LRB), Gerry O'Beirne,played for the Lorenzo "Logie" Meachum Band in Prague and much more.


" I'm very blessed to have been able to play overseas so often, When in Ireland I often Join the great songwriter John Spillane for a gig. He's been very generous allowing me to to play guitar for him over the years in Debarras, Ireland as a whole is great for music, you could almost swear music started there, I'm completely spoilt when I tour Ireland. Actually most of Europe is very musical cultured, Czech Republic, Germany and even Bahrain in the middle east are some other places I've played and I want to add more to the list, It's a grand treat to be playing music to another culture"
In his home country of Australia Peter has played numerous festivals including Cygnet Folk Festival, Australian and National Celtic Festivals and Melbourne Guitar Makers Festival to name a few. In his home town of the Gold Coast he opened for the legendary Pierre Bensusan whilst Pierre was on his debut Australian tour.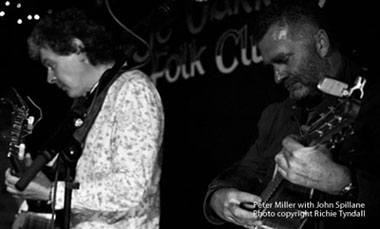 His music has appeared world wide on Film and Television including Cult UK show 'Skins'. Tracks have appeared on compilation CDs worldwide, Including the Italian CD/Magazine New Age and New Sounds receiving a two page write up. Peter is a regular on the South East QLD music scene playing venues and wine bars throughout the region. His spatial track 'View from the N16' had been chosen for an episode on the new Dallas DNA crime show.His playing has a tasteful use of space, without being underplayed. His live performances are a mixture of solo and (sometimes) layered guitar pieces using a loopstation (JamMan) . Most of his playing style is of a Celtic and folk mix .
"I play almost completely solo guitar, sometimes I use a loop pedal, these are fun. I haven't seen anyone use them so artistically as Gospel guitarist Phil Keaggy, he's got those things sussed. He goes beyond just basic looping like the style that most of us do, the rest of us can only sit back and listen"
"
Peter Miller's music paints pictures in the air of the wonders of our planet, the joy of life and the emotions most of us find hard to describe
" Charlie McGettigan. Ireland